Brazilian Butt Lift
Conveniently located to serve the areas of Beachwood and Cleveland, Ohio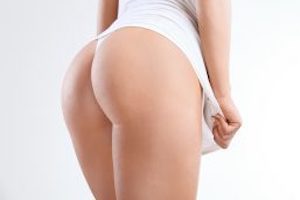 The shape of the buttocks play an important role in one's overall figure and body contours. If you've ever felt your behind is lacking in size and shape, the Brazilian butt lift can achieve your body goals.
This procedure will provide volume to the buttocks and has the added benefit of slimming down the waist. You can enhance the curves of your body to your desires with a Brazilian butt lift!
What is a Brazilian Butt Lift?
A Brazilian Butt Lift or BBL is a procedure that uses your own body's fat to give the buttocks a lifted, fuller, rounder shape. Using your own fat, called a fat transfer, is preferred over buttock implants to enhance your backside because it is your own body's tissue.
Dr. Fedele removes larger amounts of fat from other areas of your body, especially around the hips, flanks, lower back, and abdominal areas to contour them and provide donor fat to add volume to the buttock area. The fat is then injected into the buttocks to provide shape and fullness giving you the curves you want in the right places while making you shapelier around the hips and waist!
This procedure consists of liposuction and injections. Dr. Fedele implements tumescent fluid and ultrasound liposuction to help smooth out patient's bodies and harvest unwanted fat. The fat is then purified and placed in syringes. Your buttocks will be rounded out and your whole appearance transformed!
Before and After Photos
Benefits
The advantages of a Brazilian butt lift don't end with your bum. Many patients are impressed by how much the procedure impacts their whole figure. A fat transfer procedure requires slimming down at least one other area of your body. Common areas treated include the flanks, abdomen and thighs. Because the fat is injected into the buttocks you don't have to worry about incisions or scarring along your bum.
A Brazilian butt lift will give you a comprehensive body makeover!
Candidates
This procedure is excellent for women looking to enhance the curvature and volume of their bum. An ideal candidate will be healthy and active. A consultation with Dr. Fedele will help you decide if a BBL is a good solution for your concerns. Schedule a meeting today to learn more! If you are bothered by a loss of volume or always wanted a more voluptuous behind, it is time to consider a Brazilian butt lift.
Personal Consultation
You have the opportunity to meet with Dr. Fedele and create a personalized treatment plan that fits your body and aesthetic goals. Dr. Fedele will inquire about your medical history and current lifestyle to determine if a BBL is a healthy choice for you. Our goal is to educate you on procedure techniques so you can make an informed decision.
We want our patients leaving their consultation feeling excited and looking forward to their treatment.
All surgical procedures carry risks and Dr. Fedele will spend time with you at your consultation to explain the procedure in detail and any risks involved. This website is designed to give you some basic information about Brazillian Butt Lift and is not a substitute for a comprehensive consultation and exam with Dr. Fedele.
Preparation
Fill prescriptions and arrange rides to and from your appointment. You won't be able to sit on your bum for a few weeks after surgery and will need to enlist rides to grocery stores and the such.
A Brazilian butt lift is a surgical procedure that will require some preparation.
Set aside an area of your home where you can rest and lay on your stomach comfortably. This area should be stocked with snacks, medications and entertainment.
The morning of your appointment, dress in clothes that will not apply pressure to your bum or treatment areas. We encourage each patient to arrive early so they have a stress-free morning!
Brazilian Butt Lift Procedure
A Brazilian Butt Lift is normally performed under sedation or with anesthesia as an outpatient procedure.
A fat transfer is called a Brazilian Butt lift when the fat is transferred to your butt. The procedure is typically performed under local anesthesia in Dr. Fedele's office, but can be done under sedation with other procedures.
The Brazillian Butt Lift procedure takes about one hour and you will be discharged home when stable.
When you arrive to your procedure, tumescent fluid will be administered to your treatment area(s). Dr. Fedele will insert an ultrasound probe through tiny incision. The soundwaves will fluctuate the air bubbles present in the tumescent fluid. This action will gently dislodge fat cells from surrounding tissues. The fat cells and fluid will be suctioned from the area with a thin cannula. When Dr. Fedele has removed enough fat and artfully sculpted the treatment area, incisions will be closed and the collected fat will be processed and placed in syringes.
In the second step of your procedure, fat will be injected all along the buttocks. The goal will be to round out the bum and help it appear lifted and voluptuous.
Recovery
In the first three to four days you may have some bruising and swelling, but by applying ice and keeping your head elevated you can diminish this swelling. Compression garments will need to be worn around the lipo treated areas. These garments will help control swelling and assist the body adjust to its new shape. You will need to stay off your bum for a week or two and then sit on a pillow as your butt adjusts to the new size and contours.
Most people are back in the "public eye" within a few days and back to exercising and full activities in two to four weeks.
Results
A Brazilian bum lift is a long-lasting procedure! You will be able to enjoy a lifted, rounded butt for years to come. The best way to keep your results looking amazing is to stay healthy and maintain a consistent weight.
Complementary Procedures
A Brazilian butt lift is a great treatment to combine with other procedures. Many patients express an interest in improving their facial features. Dermal fillers and facial fat transfers are a great anti-aging solution. Transform not just your body, but your face too!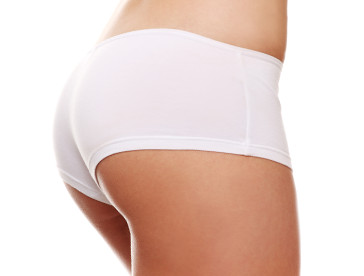 There are many soft tissue fillers available to improve facial lines such as Juvederm® or Hyaluronic acid. Your body's own fat can also be used to fill in facial lines around the mouth, augment the cheeks, or enhance the lips. By placing fat in these areas, Dr. Fedele can help smooth away unwanted lines, give your flattened cheekbones a more youthful fullness or enhance your lips resulting in a younger, fresher more appearance.
Dr. Fedele uses a special technique by removing fat from one part of your body, processing it to separate it into pure fat, and then injecting it into the areas needing refinement. Using your body's own fat has the advantage of longer lasting results because the majority of the fat injected will have long term survival, giving you a more permanent result. A fat transfer can be used in any area of the face that you would use Juvederm® or other fillers.
If you are interested in one of these treatments and combining it with your BBL, ask Dr. Fedele about your available options in your private consultation with him.
Brazilian Butt Lift Cost
Our team of experts take pride in improving the lives of the men and women who enter our office. Brazilan butt lifts have gotten popular in recent years and are helping our patients achieve attractive, sensual curves. The cost for these procedures varies between patients because they are highly customizable. Call the Center for Plastic & Cosmetic Surgery today for a personal consultation and learn more about the "Art of Plastic Surgery" with Dr. Fedele. You can reach us at (216) 464-1616, we look forward to meeting you!
For truly impressive results, schedule a Brazilian butt lift procedure!
FAQs
How long does a Brazilian butt lift last?
A Brazilian butt lift should last you your life. Keep your results looking incredible with an active lifestyle and healthy weight.
What is the recovery time for Brazilian buttlift?
It often takes three to four weeks to feel yourself and be able to sit down without a cushion. Patients often see their best results around two months after treatment. The recovery timeline will be different for each person. We want you looking and feeling your best in no time. Follow post-operative instructions provided by Dr. Fedele and remember to take each day as it comes. Getting plenty of rest, staying hydrated, and engaging in low-key activities will help your recovery go well and quickly.
Can you gain weight after BBL?
Yes but a BBL would not cause you to gain weight. Remember to eat healthy and live an active life to keep the pounds away. Being healthy will help you maintain your results and look great for a long time!
How much is a Brazilian buttock lift?
A Brazilian buttock lift is a highly customized procedure that includes two separate techniques to bring about your perfect results. Because of the personalized touch we provide, the cost will differ from patient to patient. Call our office today to learn more about BBL procedures and how you can get started down the path to a curvier body.