Brow Lift / Forehead Lift
Conveniently located to serve the areas of Beachwood and Cleveland, Ohio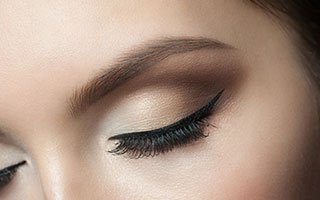 A brow lift is a type of facial surgery that restores the position of the eyebrows and smooths and lifts the forehead. The procedure can be performed for cosmetic reasons, or to address functional issues such as vision obstruction and muscle strain. There are several different techniques that can be employed in a brow lift, and Dr. Fedele performs endoscopic brow lifts so that patients can avoid visible scarring and enjoy a shorter recovery time. The best approach for each individual will be determined by factors such as the extent of correction desired, the individual's facial anatomy, and their personal preferences.
Dr. Gregory Fedele is a board-certified plastic surgeon who specializes in brow lifts and other forms of facial rejuvenation surgery. If you are considering a brow lift, Dr. Fedele can help you determine if the procedure is right for you and, if so, which approach will best achieve your desired results. Call (216) 464-1616 in Cleveland, OH, or fill out our inquiry form and we will contact you shortly.
Follow our blog for the latest news on plastic surgery and beyond!
Before and After Photos
About Brow Lift Surgery
Your face is an outward representation of your innermost feelings, so it's important that it gives off the correct impression. The eyes and forehead play especially prominent roles in showing emotion, which is why a sagging or heavy brow can make you look tired or unhappy. If this sounds like you, brow lift cosmetic surgery could provide a lasting solution.
A brow lift, also known as a forehead lift, seeks to improve the appearance of the forehead and eyebrows by correcting drooping brows and reducing the appearance of wrinkles in the forehead.
Excess, sagging skin on the forehead is tightened and the underlying muscles and tissues are repositioned during this type of surgery. By correcting a heavy, drooping brow, eliminating deep furrows, and restoring a smoother contour to the upper third of the face, patients look younger following treatment. Patients will see a more refreshed appearance that better reflects their natural vibrance.
Benefits of Brow Lift in Cleveland, OH
The frontalis muscle is what is responsible for lifting the brows, and because it is not attached to the underlying bone, it can descend over time. This causes the eyebrows to droop. [1]
The effects of gravity and age can also cause the skin around the brow to sag and droop, making the problem worse. But, a brow lift can address each of these causes for lax tissue and provide both cosmetic and functional benefits.
Aesthetic Benefits
Aesthetically, a brow lift can create a more youthful appearance by lifting the eyebrows and softening the wrinkles in the forehead; this can help to create a more rested and refreshed look. Furthermore, it can:
Open up the eyes for a more alert appearance
Improve the symmetry and arch of the eyebrows
Create a more balanced look on the face
Reduce bulking tissue at the brow ridge for a more refined facial profile
You may find that people are more likely to approach you, as they will no longer think you look angry or worried. [2]
Functional Benefits
A brow lift can also help to improve vision by lifting the brow tissue out of the way of the upper eyelid. Oftentimes, as the brows begin to droop, the eyelids become affected, which can cause functional problems such as difficulty seeing. Patients can also experience headaches from the constant strain of attempting to lift the dense, sagging brow tissue that impedes their field of vision.
Ideal Candidates for Brow Lift Surgery
The ideal candidate for a brow lift is in good general health and has realistic expectations for the procedure, and whose brows have drooped due to aging, sun damage, or other factors. People of all genders can suffer from a ptotic brow, and stand to benefit from a brow lift. However, it's important to choose a surgeon that has an appreciation of the differences in male and female facial anatomy, so that natural-looking lifted results can be achieved. For example, while an arched eyebrow is considered desirable for women, it can leave men looking surprised, or overly feminine.
Patients who are unwilling to quit smoking or who have underlying medical conditions may not be able to undergo a brow lift, as these factors can interfere with the surgery and healing process.
If you are interested in learning more about brow lift surgery, or any of the other cosmetic procedures we offer, we encourage you to schedule a consultation with us.
Personal Consultation
During your consultation, Dr. Fedele will take the time to assess your individual needs and goals in order to determine if a brow lift is right for you. He will also discuss the different techniques that can be used in your procedure and help you choose the approach that will best achieve your desired results. If you are interested in learning more about brow lift surgery, or any of the other facial rejuvenation procedures offered by Dr. Fedele, contact our office today at (216) 464-1616 or fill out our inquiry form, and we will get in touch with you shortly.
Preparation for Brow Lift
You will need to arrange for someone to drive you home after your surgery as the residual anesthesia will leave you unable to do so. Dr. Fedele will provide you with specific instructions on how to prepare for your brow lift.
Patients should also:
Avoid smoking for at least two weeks before and after surgery
Avoid taking aspirin, ibuprofen, or other blood-thinning medications for two weeks before and after surgery
Arrange for someone to stay with you for at least the first night after surgery
It is important that you follow all of the instructions provided to you in order to ensure a successful outcome and minimize the risk of complications.
What to Expect During Brow Lift Surgery
Brow lift surgery is typically done as an outpatient procedure, which means you won't have to stay overnight at the hospital. Forehead surgery is typically performed under general anesthesia, and takes one to two hours to complete.
There are a number of different techniques that can be used to perform a brow lift. Dr. Fedele uses an endoscopic approach for brow and forehead surgery, as it avoids the need for large incisions. This is an advanced method that is less invasive than older techniques, as it allows Dr. Fedele to work beneath the surface of the forehead. With this method, Dr. Fedele will make a few very small incisions (approximately ¾ of an inch long) behind your hairline. Next, he will use special thin instruments and a tiny camera to reposition muscles and lift underlying tissue. Once the necessary adjustments have been made, and the tissues are secured in position, the newly smoothed and lifted forehead is dressed with tape to secure the healing results.[3]
Recovery After Brow Lift Surgery
After your brow lift surgery, you will be taken to a recovery area where you will be monitored as the anesthesia wears off, which typically takes a few hours, after which you will be released to your designated caretaker and able to return home. After a brow lift, patients usually don't feel much pain. During the first ten days following surgery, it is common to have some temporary swelling and bruising.
Here's what you can expect as you progress along your recovery timeline:
On the day after your surgery, we recommend that you take short walks around your home.
You may shower starting 1-2 days after your surgery, but take care around the incision sites.
Within one week of surgery, most patients are able to return to a sedentary job; and most patients are comfortable being back in public ten to fourteen days after surgery. We can provide recommendations for makeup options to camouflage any potential bruising.
You should be able to resume driving one to two weeks after surgery, provided you are no longer taking pain medication.
Generally, patients are allowed to resume physical activity three to four weeks post-surgery. However, always check with Dr. Fedele before returning to your exercise routine.
What Are the Results of Brow Lift Surgery?
Brow lift surgery is an effective way to achieve a youthful and refreshed appearance. The results of your surgery will be long-lasting, and you can expect to enjoy a more youthful appearance for years to come.
Aesthetic Results
The results of your brow lift will be immediately apparent. However, it may take a few weeks for the swelling and bruising to resolve completely. Once the swelling has dissipated, you will be able to see the full extent of your results.
The results of your brow lift will be natural and harmonious with the rest of your facial features. Your brows will be lifted to a more youthful position, and the skin on your forehead will be smoother and tighter.
Functional Results
Your eyebrows will be elevated to a position that improves your vision. This will open up new possibilities for activities that you may have been avoiding due to vision problems.
Corresponding & Complementary Procedures
A brow lift can be performed as a standalone procedure or in conjunction with other cosmetic surgery procedures. For patients who are interested in achieving comprehensive rejuvenation, a brow lift can be combined with a Face Lift, and this procedure is also commonly combined with Blepharoplasty to treat sagging eyelids.
What is the Cost of a Brow Lift in Cleveland?
The cost of a brow lift will vary depending on the specific details of your procedure. When you come in for your consultation, Dr. Fedele will develop a personalized treatment plan that takes into account your unique facial anatomy and aesthetic goals. Once your treatment plan is developed, we will be able to provide you with a more accurate cost estimate.
So don't delay! Lift, tighten, and smooth the forehead with a brow lift. Call (216) 464-1616 in Cleveland, OH, or fill out our inquiry form, and we will contact you shortly.
References
Pessino K, Patel J, Patel BC. Anatomy, Head and Neck, Frontalis Muscle. PubMed. Published 2020. https://www.ncbi.nlm.nih.gov/books/NBK557752/
Seidel EM, Habel U, Kirschner M, Gur RC, Derntl B. The impact of facial emotional expressions on behavioral tendencies in women and men. Journal of Experimental Psychology: Human Perception and Performance. 2010;36(2):500-507. doi:10.1037/a0018169
Core GB, Vasconez LO, Graham HD. Endoscopic Browlift. Clinics in Plastic Surgery. 1995;22(4):619-631. doi:10.1016/S0094-1298(20)31164-0