CO2 Laser Resurfacing
Conveniently located to serve the areas of Beachwood and Cleveland, Ohio
Fine lines, wrinkles, acne scars, and pigmentation changes in the skin can all be improved with skin resurfacing procedures.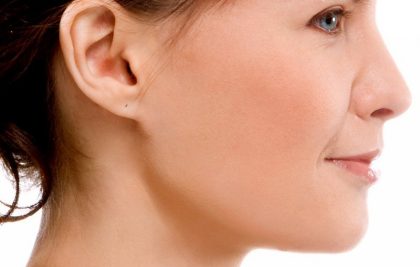 CO2 laser and Chemical peels remove dead skin cells, smooth out fine lines, improve acne scars, and even out skin tone to give you a smoother, more youthful appearance to your skin. Dr. Fedele performs skin resurfacing procedures to treat these skin problems and improve the appearance of your skin to give you a more youthful look.
About CO2 Laser Resurfacing
Laser Skin Resurfacing uses a CO2 Laser to precisely treat the skin to make scars and fine lines less noticeable. Other skin resurfacing treatments such as Chemical Peels are done with varying strengths of trichloroacetic acid (TCA) to produce chemical irritation of the skin to achieve the results.
C02 Laser resurfacing uses short bursts of concentrated light-energy to remove old, damaged and dead skin cells. The pulses of light, called ultrapulse, last only fractions of a second, which minimizes any potential for heat damage.
In some cases, laser treatments can be combined with other skin care treatments or surgical procedures. For example, CO2 laser resurfacing provides excellent results in the lower eyelid to smooth out the fine lines around the eyes to further enhance the results of the Eyelid Lift.
Procedure
The procedure is typically performed under sedation or "twilight" anesthesia as an outpatient at an ambulatory surgery center. The Laser Resurfacing procedure takes about one hour and you will spend about two hours in the recovery room and then be discharged home when stable. You will have a silicone mask placed on the area that was treated. This helps with healing, discomfort, and redness.
After Your Treatment
You will see Dr. Fedele about three times in the first week after your treatment. The mask will come off in five to seven days. After the skin is healed, you can wear make-up. Most people are back in the "public eye" in about ten to fourteen days and back to exercising and full activities in three to four weeks. Redness may last three weeks to 6 months.
Consultation with Cleveland Skin Care Expert
All surgical procedures carry risks and Dr. Fedele will spend time with you at your consultation to explain the procedure in detail and any risks involved. This website is designed to give you some basic information about Laser Resurfacing and is not a substitute for a comprehensive consultation and exam with Dr. Fedele.
Call the Center for Plastic & Cosmetic Surgery today for a personal consultation and learn more about the "Art of Plastic Surgery" with Dr. Fedele.