CO2 Laser Resurfacing
Conveniently located to serve the areas of Beachwood and Cleveland, Ohio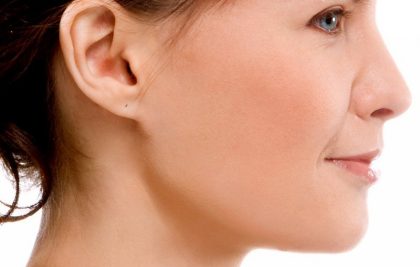 CO2 Laser Resurfacing Is a Brilliant Way to Enhance Your Glow
CO2 laser resurfacing harnesses the power of light to breathe new life into your aging skin. Many years ago, lasers were only the stuff of science-fiction. Today, they can return a youthful glow to your appearance. Dr. Gregory M. Fedele brings the latest in aesthetic technology to his Cleveland-area practice because he strives to serve his community with the finest cosmetic procedures in Ohio. 
Contact us to schedule a private consultation. Let us light the way to a new you! Call (216) 464-1616 to speak with one of our helpful representatives. If you prefer, we now offer Virtual Consultations to accommodate our patients' needs. 
About
CO2 laser and Chemical Peels remove dead skin cells, smooth out fine lines, improve acne scars and even out skin tone to give you a smoother, more youthful appearance to your skin.[1] Dr. Fedele performs skin resurfacing procedures to treat these skin problems and improve the appearance of your skin to give you a more youthful look.
Laser Skin Resurfacing uses a CO2 Laser to precisely treat the skin to make scars and fine lines less noticeable. Other skin resurfacing treatments such as chemical peels are done with varying strengths of trichloroacetic acid (TCA) to produce chemical irritation of the skin to achieve the results.
Fine lines, wrinkles, acne scars, and pigmentation changes in the skin can all be improved with skin resurfacing procedures.
CO2 Laser resurfacing uses short bursts of concentrated light-energy to remove old, damaged and dead skin cells. The pulses of light, called ultrapulse, last only fractions of a second, which minimizes any potential for heat damage.
In some cases, laser treatments can be combined with other Skin Care treatments or surgical procedures. For example, CO2 laser resurfacing provides excellent results in the lower eyelid to smooth out the fine lines around the eyes to further enhance the results of the Eyelid Lift.
Dial in to the right frequency for flawless skin. Learn more about our full spectrum of services by reading the Art of Plastic Surgery Blog. 
Before and After Photos
Benefits
CO2 laser resurfacing will return the youthful glow to your skin. The procedure leverages a process called selective photothermolysis to do its rejuvenating work. Selective photothermolysis describes what happens when the CO2 laser makes contact with the skin—its upper layers are vaporized by the laser's powerfully precise beam.[2] This vigorous process reinvigorates the skin by promoting collagen growth and erasing surface-level wrinkles.
Ideal Candidates
The quintessential candidate for CO2 laser skin rejuvenation is above the age of 30 and is in good overall health. Candidates seek to restore youthful elasticity to their skin, but they are not quite ready for surgery. Some are searching for results that a Facelift simply can not achieve; these candidates wish to address surface-level imperfections, like fine lines, wrinkles, scars and acne. 
Your Private Consultation with Cleveland's Skin Care Expert
Dr. Fedele wants to help you glow again. At your initial consultation, the doctor or one of his courteous and knowledgeable staff will conduct an intake interview to learn more about your medical history. It is only when Dr. Fedele has become acquainted with your case that he will be able to begin plotting your course of treatment. Every patient's aesthetic journey is an individualized affair. View our videos so you can get a sense of what to expect. Dr. Fedele's many media appearances are an excellent resource, too.  
All surgical procedures carry risks and Dr. Fedele will spend time with you at your consultation to explain the procedure in detail along any risks involved. Contact us to get the conversation started. Call (216) 464-1616 to schedule your private consultation. Or, if you prefer, we now offer Virtual Consultations.
Procedure
The procedure is typically performed under sedation or "twilight" anesthesia as an outpatient at an ambulatory surgery center. The laser resurfacing procedure takes about one hour and you will spend about two hours in the recovery room. You will be discharged home when your condition is deemed stable. Dr. Fedele or one of his team will place a silicone mask on the area he treated.[3] This helps with healing, discomfort and redness.
How Many CO2 Laser Treatments Are Needed?
CO2 laser resurfacing is a custom procedure. The course of your treatment shall be determined by your unique aesthetic needs. It may take as little as one treatment or up to six to obtain maximum results. Dr. Fedele will determine your exact course of treatment at your private consultation.
Recovery & Results
To maintain the integrity of your results, it is important that you follow Dr. Fedele's individualized aftercare instructions. During the first week of your recovery, your skin will be regenerating its top-most layers.[4] During this time it will be tender to the touch. You should avoid all sun exposure during this time. Do not scratch or pick at the treated area. Use cooling creams and soothing aloe to help you manage any discomfort. In some cases, Dr. Fedele may apply a temporary mask to assist in a smooth and fruitful healing process.   
You will see Dr. Fedele about three times in the first week after your treatment. The mask will come off in five to seven days. After the skin is healed, you can wear make-up. Most people are back in the "public eye" in about ten to fourteen days and back to exercising in three to four weeks. Redness may last three weeks to six months.
Your final results will take several weeks to fully blossom.
That's because your body's own healing process is integral to your results. The laser activates your powers of regeneration, calling upon collagen and other structural fibers to grow and develop beneath the skin's surface. Collagen is a structural compound responsible for the elasticity seen in younger skin. When aging, wrinkled and discolored skin cells are vaporized, your body rises to the occasion and produces young and healthy cells. These young cells beam with life because they are so fresh and new. A single treatment can achieve smoother, tighter skin and a clearer complexion. 
Will CO2 Laser Tighten Skin?
Yes, one of the major benefits of CO2 laser resurfacing is the fact that it stimulates collagen grown in the treatment area. Collagen is a structural protein that degrades as we age, causing skin to become lax and saggy. But laser resurfacing puts your healing process in high gear. Your body produces new collagen that will firm and tighten skin in the treatment area.
What Does Laser Skin Resurfacing Cost in Cleveland?
At your personal consultation, Dr. Fedele will become familiar with the details of your case. This is when the two of you shall begin plotting the particulars to your custom course of treatment. Because everybody's treatment is tailored to them, it is difficult to quote a cost without knowing the patient's medical history and aesthetic goals. At your personal consultation, Dr. Fedele or one of his staff will present your price.
Financing options are available to make our rejuvenating procedures available to everyone. Our Referral Rewards Program offers additional opportunities to save. Contact us with questions anytime! 
FAQ
What does CO2 laser resurfacing do?
CO2 laser resurfacing involves a powerful, precise laser. The procedure selectively removes dead skin and pigments from the upper layers of the epidermis. In this way, laser resurfacing can remove fine lines, wrinkles and age spots. By stimulating your body's own regenerative processes, the procedure also tones, tightens and revitalizes your skin beneath the surface. 
Is CO2 laser resurfacing painful?
Most patients report that the CO2 laser resurfacing procedure is very well tolerated. The classic comparison is that the laser feels something like a rubber band snapping against your skin. If you are sensitive to pain, your doctor may apply a topical anesthetic or even "twilight" anesthesia. This will numb your pain response during the procedure. After the procedure, you may experience redness and tenderness. These symptoms will feel similar to a sunburn until your skin has recovered. 
Does CO2 laser remove wrinkles?
Laser resurfacing can effectively erase fine lines and wrinkles. This is because the procedure removes the top layer of skin. It is often this layer that experiences the most damage, where the signs of aging are most visible. Laser resurfacing removes aging skin cells and makes wrinkles vanish. 
References