Breast Lift (Mastopexy)
Conveniently located to serve the areas of Beachwood and Cleveland, Ohio
As you age, your breasts tend to lose their fullness. Breasts can lose their shape and elasticity and begin to sag after pregnancy, breast feeding, weight loss, or with age. A breast lift from Cleveland plastic surgeon Dr. Fedele can be a great option for restoring fullness to your breast. See how a breast lift can make your breast look younger again.
Dr. Fedele Discusses The Breast Lift Procedure
What Is A Breast Lift?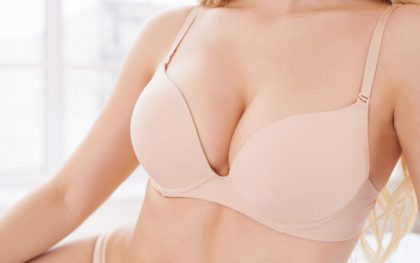 A Breast Lift, also called a mastopexy is a surgical procedure that contours sagging breasts, giving them a shapelier more youthful appearance. Often performed with a breast augmentation, a mastopexy focuses on tightening the skin and reducing sagging. The goal of a breast lift is to provide the breasts a more youthful and contoured appearance. Loss of breast volume with excess skin is the cause for the sagging resulting in a flattening of the breast and drooping of the nipple. By removing this excess skin and placing the nipple in a higher, more youthful position the breasts have a rounded, raised, and more contoured appearance.
Before & After Photos
Is There A Risk With A Mastopexy?
All surgical procedures carry risks, such as infection or issues with healing. During your consultation at our Cleveland office, Dr. Fedele will explain the surgery in detail and any risks involved. You will receive blood thinners and antibiotics to reduce any risk of complication.
How Is The Procedure Done?
Since there are different degrees of sagging or ptosis, there are variations in the lifting procedures. For mild ptosis, the incision may be just around the areola (the pigmented skin around the nipple). For moderate or severe ptosis the incisions are made around the areola and continue down from the areola to the breast fold and may be in the fold. These incisions fade with time and are hidden in the fold and at the border of the areola.

For women who have significant sagging and also desire larger shapelier breasts, a breast augmentation along with a breast lift might be the best option. By combining these two procedures, the implant will enhance the appearance of the lift and make it longer lasting.
Dr. Fedele performs Mastopexy to enhance a woman's figure by returning her breasts to a more youthful appearance thus adding to her self-confidence.
The procedure is typically performed under general anesthesia as an outpatient at an ambulatory surgery center. The surgery takes about two to three hours, and you will spend about one to two hours in the recovery room. The first three to four days is the most uncomfortable, but Dr. Fedele will prescribe pain medication to control the discomfort. Most women are back to work within seven days and back to exercising and full activities in three to four weeks. The recovery may be longer if you have an augmentation along with the lift.
How Will I Look Afterward?
With a Breast lift, the breast will have a rounded, raised, and more contoured appearance. If a breast augmentation is performed in conjunction with a mastopexy, deciding exactly the right size implants to use is paramount. Dr. Fedele has a variety of implant sizers to "try on" in his office to narrow down the right volume to be used. By bringing a non-padded bra and a tight fitting thin shirt and placing a sizer in the bra, you can get an idea of what size fits best with your body proportions giving you the best possible enhancement.