Breast Lift (Mastopexy)
Conveniently located to serve the areas of Beachwood and Cleveland, Ohio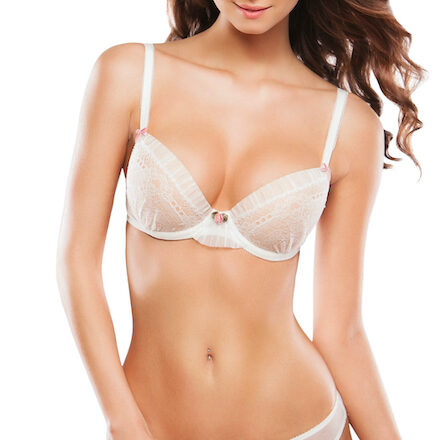 A Breast Lift, also called a mastopexy, is a surgical procedure that gives sagging breasts a shapelier more youthful appearance. Now you can enjoy full lush breasts and give your confidence a big lift with a little help from Dr. Gregory Fedele and his team at The Art of Plastic Surgery. 
The natural loss of breast volume and excess skin causes sagging. Typically, this results in a flattening of the breast and drooping of the nipple. A breast lift can help by removing loose, excess skin and placing the nipple in a higher, more youthful position. This gives the breasts a rounded, raised, and tighter contour.
Aging, pregnancy and weight changes can lead to unexpected and undesirable changes in the shape and feel of a woman's breasts. Ptosis, or sagging of the breasts, can have a major impact on the figure, and on your emotions. Don't let sagging breasts let you feel deflated and withered. A breast lift can put you back in touch with your inner bombshell.
Dr. Fedele understands how much your breasts can affect your self confidence and he is here to help you achieve elevated, perkier breasts.  Contact his office today at (216) 464-1616 to schedule a free consultation, and get started on your breast transformation.
There's Hope for Your Bustline.
A breast lift can drastically improve your overall body aesthetic and contribute to a curvier, more shapely appearance.
During a breast lift, Dr. Fedele will remove excess stretched skin. Depending on the shape of the breast, and the location of the nipple, he may also choose to reposition the nipple to a higher location. The remaining skin is tightened, allowing the breasts to sit in a more natural position on the chest. This gives the appearance of fuller, more pert breasts that haven't been unfairly treated by time and gravity.
A Breast Lift can help with the following:
Long, Flat breasts
Limp, hanging breasts
Nipples that point downward or hang underneath the breast crease
Disproportionate, stretched areolas that don't seem to fit your breast
Breast asymmetry due to the location of the areola or shape of the breasts
Benefits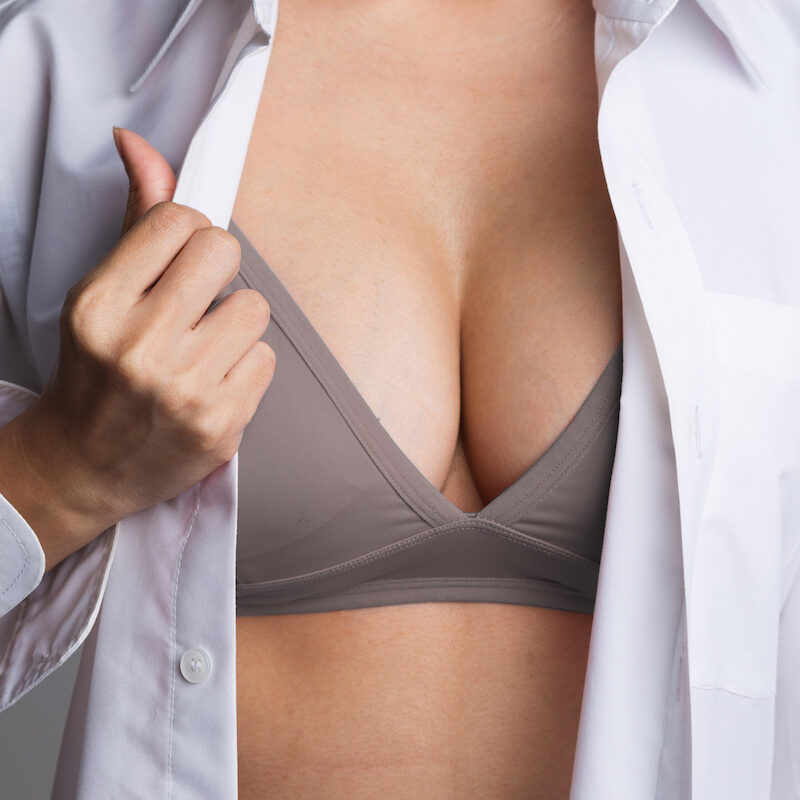 Repositioning the breast tissue higher on your chest can help restore your hourglass shape.  Your waist will become more accentuated, and you'll enjoy the more dynamic contours of your profile. Your breasts will have a more robust feel and supple appearance. Restore your vivaciousness, and enjoy wearing low-cut blouses and bikini tops again – without worrying about unsightly folds. This procedure can also improve your day-to-day comfort. Folds and creases are unpleasant in warm weather!  You'll also eliminate the need for constricting bra straps and aching shoulders. Best of all, because of recent advancements in mastopexies, there are a range of incision options that can eliminate unsightly scarring (1).
Candidates
A breast lift procedure can make a world of difference. This procedure is popular with mothers who have completed their family and are eager to get their pre-baby breasts back. Women who have undergone significant weight loss or are noticing the effects of aging on their chest are also great candidates for treatment. Ideally, a breast uplift candidate will have a stable weight and maintain a healthy lifestyle. Take control of what your breasts say about you. If you're in the Cleveland area and want to learn more, schedule a consultation with The Art of Plastic Surgery today. We would love to get you started down the path towards looking and feeling amazing!
Personal Consultation
During your personal consultation at his offices in the elegant Signature Square Complex, Dr. Fedele will perform a comprehensive review of your medical history and examination.  Besides being a Cleveland native and having years of surgical experience, Dr. Fedele is an accomplished visual artist who is dedicated to putting his artistic eye and love of beauty to work for his patients. Then, he'll work closely with you to ensure that your breast lift is specially tailored to meet your individual needs. Dr. Fedele realizes that each person is unique and has their own personal concerns and goals. Because every body is different, and there are a variety of approaches, you can be sure that your personalized course of treatment will give you beautiful breasts that are uniquely yours.  Check out Dr. Fedele's blog to learn more about what he can do for you!
Preparing for your Breast Lift Surgery
There are a few things that you can do to get ready for your surgery. With good planning and the support of Dr. Fedele's staff, you can ensure that you have the best possible experience, and end up delighted with your results. Pick a recovery buddy to drive you home from your surgery and help you settle in. Your range of upper body motion will be limited in the days after your surgery. Make sure that you've prepared your home beforehand, and that essential items are close at hand to avoid any unnecessary reaching. Prepare a comfortable place to recover. You'll want to remain upright and seated when resting for optimal healing and to help keep swelling down.
Procedure

A breast uplift is a surgical procedure that transforms the appearance of the chest. Due to the highly varied appearance and issues that each patient has, the procedure is customized as much as possible. That said, there are general steps that a breast lift involves. Incisions are made along the breast through which unnecessary skin is excised. The remaining skin is tightened and lifted. The breasts will be placed in a personalized and flattering position. Oftentimes the areolas are resized and the nipples are repositioned upwards. This surgery will truly revitalize your chest and help you look younger.
The Right Breast Lift for You
There are a number of surgical approaches that may be used depending on the shape of the breast, and the desired outcome.
Breast lift incision options include:
Circumareolar incision: This incision is placed around the areola. The pigmentation of the areola conceals any potential scarring.
Keyhole incision: Similarly, this technique consists of an incision made around the areola. A secondary incision runs vertically from the nipple to the breast crease. Keyhole incisions are recommended for moderate sagging of the breasts.
Anchor incision: The anchor incision uses the two above incisions, and includes a third incision that runs along the lower fold of the breast. This technique is the most commonly performed breast lift and offers the best results for moderate to severe sagging.
Breast lifts are performed under general anesthesia, but are an outpatient procedure. The surgery takes about two to three hours, and you will spend about one to two hours in the recovery room before you can return home to begin your recovery.
Recovery
The healing process is different for every patient. but most patients experience mild swelling, bruising, and discomfort as the new breast contours heal. The first three to four days are the most uncomfortable, but Dr. Fedele will prescribe pain medication to control the discomfort. Most women are back to work within seven days. You'll be back to your regular activities and exercise routine in three to four weeks.
As with all surgeries, diligent aftercare following your procedure will prevent infection and support the healing tissues. Dr. Fedele will schedule follow-up appointments with you to closely monitor your progress and address any concerns that you may have about your results.
Once your new, perky breasts have fully healed, you'll be able to enjoy your results! While there is no way to prevent the natural aging process, breast lift surgery is a sure-fire way to turn back the clock. With a healthy lifestyle, your breast lift will be a long-lasting investment that you'll enjoy for years to come.
Complementary Procedures
While you're undergoing a breast lift, why not also consider including a breast augmentation? Treat yourself to the bustline of your dreams! A breast augmentation performed along with a breast lift is a convenient and effective option for women who want to eliminate sagging and also desire larger, firmer, shapelier breasts. Combining these two procedures enhances the appearance of the lift, and will extend the fullness of your breasts.  Furthermore, studies show that performing a lift and an augmentation during the same operation resulted in better outcomes than when performed as two separate procedures.(2)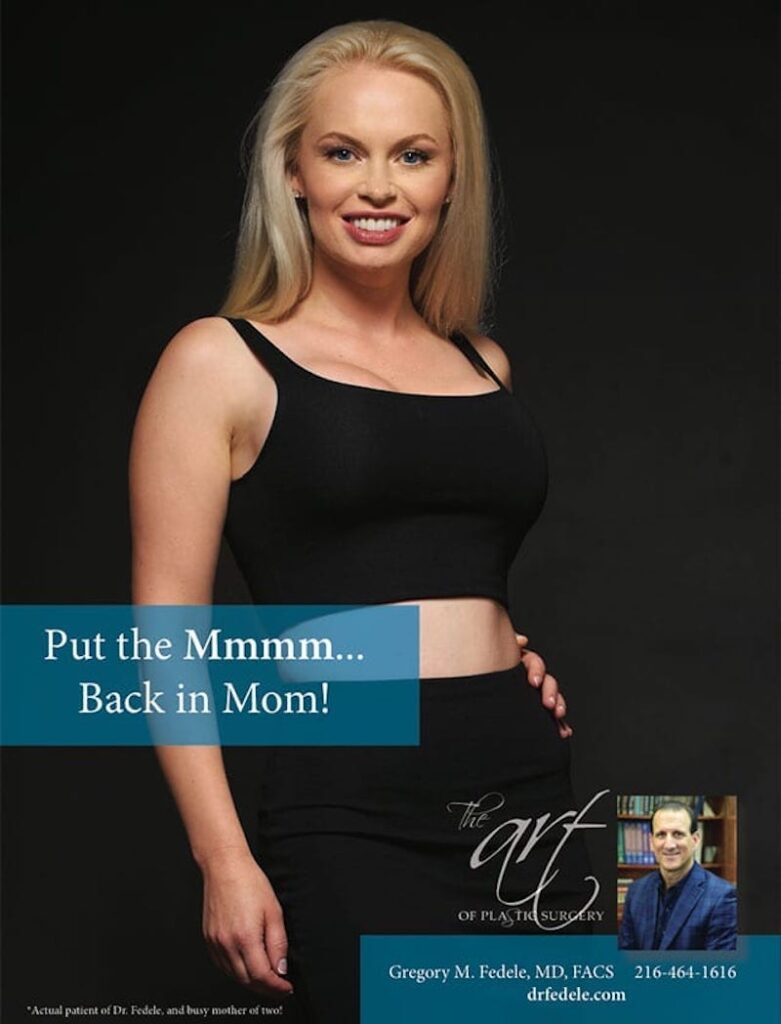 Cost
A breast uplift procedure is hand-tailored to your appearance and desired outcome. Because of Dr Fedele's personalized approach, each patient's breast uplift cost will differ. The best way to learn more about breast uplift surgery is to schedule a consultation or give our Cleveland office a call today!
FAQ
Will a breast lift make my breasts look bigger?
A breast lift raises the positioning of the breast on the chest and tightens the skin of the breast.  You'll notice firmer breasts with a more youthful projection and a more lush appearance.  If upgrading the size of your breasts is in the cards for you, A breast lift is a great opportunity to also have breast implants inserted.
Can I breastfeed after a breast lift?
A breast lift will typically not affect your ability to breastfeed.  However, because of the impact that pregnancy and breastfeeding has on the breasts, this procedure is best planned for after you've completed your family.
How long does it take to recover from a breast lift?
You'll be back to your regular activities and exercise routine in three to four weeks.  In 6-12 weeks, your new perky breasts will have fully healed, and you'll be able to enjoy your results! 
References 
Hidalgo, David A. M.D.; Spector, Jason A. M.D. Mastopexy, Plastic and Reconstructive Surgery: October 2013 – Volume 132 – Issue 4 – p 642e-656e doi: 10.1097/PRS.0b013e31829fe4b4
Swanson, Eric M.D. Prospective Comparative Clinical Evaluation of 784 Consecutive Cases of Breast Augmentation and Vertical Mammaplasty, Performed Individually and in Combination, Plastic and Reconstructive Surgery: July 2013 – Volume 132 – Issue 1 – p 30e-45e doi: 10.1097/PRS.0b013e3182910b2e