Laser Hair Removal
Conveniently located to serve the areas of Beachwood and Cleveland, Ohio
Dr. Fedele can remove unwanted hair, rejuvenate your skin and treat sun damage using state-of-the-art skin care technology with our new Cutera™ Laser.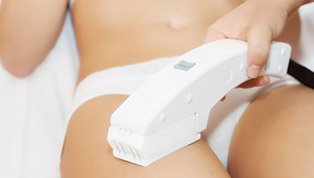 The Art Of Plastic Surgery is pleased to also offer a complete array of the world's most advanced laser skin care platforms for tackling a huge number of skim blemishes and signs of premature skin aging.
If you are looking for a long-term or permanent answer for unwanted or difficult-to-groom hair, schedule a personal consultation with Dr. Fedele and The Art of Plastic Surgery Center, the top-ranked laser hair removal and laser skin treatment facility serving Cleveland.
Exclusive New Laser Skin Care Technology
Having a tan complexion has often been associated with a healthy appearance. Today we know that excessive exposure to ultraviolet light can have detrimental effects on our skin. Sun exposure over a period of time can cause accelerated damage to skin leading to areas of increased pigmentation, fine lines or wrinkling. Aging can adversely affect the appearance of skin by degeneration of collagen and elastic fibers leading to fine lines and wrinkles.
Pearl & Pearl Fractional Laser Technology
Dr. Fedele is the first in Northeast Ohio to offer this exciting new technology and has expanded his office based treatments to include a Pearl facial rejuvenation laser to renew your skin's surface with quick, visible results and minimal downtime.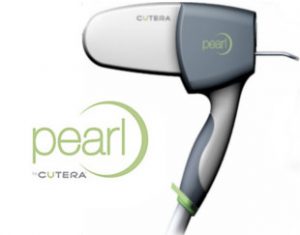 The Cutera™ Laser procedure combines the impact of resurfacing lasers with the gentleness and safety of non-invasive procedures to treat aging and sun-damaged skin. The Pearl treats fine lines on the face and neck, uneven skin texture and light & dark spots caused by sun damage with fewer treatments and less overall recovery than other technologies to provide a healthy, pearl-like glow.
Typically, only 1-2 treatments are necessary to renew your skin.
The Cutera™ Laser replaces the entire top sun-damaged layer of skin with new healthy skin. Simultaneously, it sends heat to deeper layers of the skin stimulating new collagen growth, filling out and decreasing fine lines and wrinkles. New collagen growth continues for 4 to 6 weeks post-treatment. The combination of new skin and decreased wrinkles results in a healthier, more youthful appearance. Unlike "fractional" treatments, Pearl treats the entire face, minimizing the number of required treatments.
Pearl Fusion Combination Treatment
Pearl and Pearl Fractional laser treatments can be performed simultaneously (Pearl Fusion) to maximize your results with a single scheduled down time. These procedures are performed in our office by Dr. Fedele using topical & local anesthesia with a mild oral sedative such as valium.
The Science of Pearl Fractional Laser Therapy
In addition, the Pearl Fractional laser is a new volumizing fractional laser perfected for photo aging in just one treatment. Pearl fractional offers the best combination of patient experience and recovery time. Patients will see improvements in photo damage, tone, and texture as well as a noticeably smoother, brighter complexion.
Pearl Fractional laser treats deeper dermal imperfections, acne scarring, wrinkles, and facial lines in one treatment.
Fractional therapy describes a treatment that affects only a fraction or small percentage of the skin. With Pearl Fractional, laser pulses selectively remove columns of damaged skin, leaving surrounding skin intact. The treatment shortens healing time and stimulates the body's own natural process for creating new collagen, plumping the skin from below and reversing photo aging and other imperfections.
Cool Glide Laser Hair Removal
Now men and women alike are making unwanted facial and body hair a thing of the past – thanks to the Cutera CoolGlide Laser. No more painful waxing, electrolysis or razors! The CoolGlide laser delivers 21st century technology for treatment of this distressing problem. FDA Clearance: CoolGlide is cleared for permanent hair reduction, the CoolGlide laser can treat men and women of all skin types safely and effectively, year-round, even patients with a suntan.
Long-Term Laser Hair Removal Results: The Cutera CoolGlide Difference
The results of a complete CoolGlide treatment course will be long-term hair reduction. For women, the laser can remove unwanted facial hair and give the bikini and underarm area a smooth appearance. For men, treatments can smooth away unwanted hair on the shoulders and back.
The Cutera CoolGlide was designed to be the most outstanding laser hair removal system on the market for all skin types, from light to dark, including tanned patients. Its unique design, longer wavelength, and innovative cooling allow extremely effective, safe and permanent results.
Most areas require 3-6 treatments. However, the number of CoolGlide treatments required for optimal long-term benefits depends on multiple factors – hair thickness, the area treated and your hair's growth cycle. Not all hairs are actively growing at the same time and actually go through three distinct phases: growth, regression, and resting. CoolGlide treatments work by disabling the hair that is principally in the active growth phase at the time of treatment. Since other hairs will enter this active growth phase at different times, additional treatments may be necessary to disable all of the hair follicles in a given area.
Vein Therapy
Now men and women alike are making unsightly facial and leg veins a thing of the past, thanks to the Cutera CoolGlide Vein Therapy Laser. No more painful injections! With the most advanced technology, a unique design, and a longer wavelength, the CoolGlide Laser can safely and effectively treat both tiny superficial face veins and spider veins of the leg on men and women of all skin tones. Get your treatment started. It usually takes 3-5 treatments to remove the veins, but you should see results after one treatment.
Consultation with Top Cleveland Hair Removal Experts
Dr. Fedele and our Licensed Advanced Medical Aesthetician, Susan Winney, strive to provide individualized care and the best results possible for every patient. During your consultation, you will be walked through each step of your treatment plan and any questions you may have will be answered.
You will also receive a price breakdown of your personal treatment. Our goal is to leave you feeling totally confident and comfortable in the world-class care you are about to receive