Breast Augmentation
Conveniently located to serve the areas of Beachwood and Cleveland, Ohio
Dr. Fedele is proud to offer breast augmentation at his Cleveland practice using state-of-the-art equipment with personalized care and attention to detail. Breast augmentation surgery or breast enlargement is one of the most frequently performed cosmetic surgery procedures in the United States.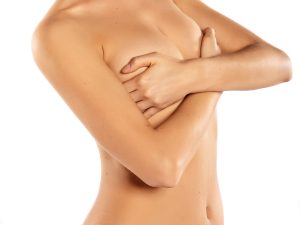 Many women experience a decrease in their breast size and shape after pregnancy or with age or feel their breasts are too small. For women with small or unevenly sized breasts, a breast augmentation can enhance and contour your breasts, giving you a shapelier figure and making you more confident.
Dr. Fedele Discusses Breast Augmentation
Patients elect to undergo breast augmentation for many different medical and aesthetic reasons, including;
Balancing breast size
Compensating for reduced breast mass after pregnancy or surgery
Correcting a congenital breast defect
If you have sagging breasts or "breast ptosis" from pregnancy, age, or gravity, Plastic Surgeon Gregory M. Fedele in Cleveland, OH may recommend a breast lift or "mastopexy" with a breast augmentation with an implant to lift your breasts into a more youthful position.
Under Dr. Fedeles' expert care, patients enjoy great-looking, natural-feeling breasts that are one or more cup sizes larger after the operation. If you are interested in a breast augmentation, contact us today.
"Dr. Fedele's excellent reputation and bedside manner helped me feel comfortable selecting him as my physician for my breast augmentation surgery. His staff is professional and welcoming. My surgery went smoothly and my results are amazing. I would highly recommend him as a surgeon."
Before and After Photos
How Should I Prepare For Breast Augmentation?
Your doctor will talk with you about the options for breast enlargement – depending on your current measurements, your body frame, and your expectations.
Breast Augmentation preparation begins with a pre-operative consultation with Dr. Fedele at his Cleveland, OH office. The purpose of this initial meeting is to discuss what each patient hopes to gain from breast augmentation surgery. Every woman is unique in both her desires and her body shape. Together with your doctor, you will make decisions about the following type, size, incision and placement of your implants. Your anatomy plays a significant role in these decisions.
BREAST IMPLANT SIZE
Since the procedure is mainly concerned with the size of the breasts, deciding exactly the right size implants to use is imperative. Dr. Fedele has a variety of implant sizers to "try on" in his Cleveland office. These are used to narrow down the right volume for your breast implant. By bringing a non-padded bra and a tight fitting thin shirt and placing a sizer in the bra, you can get an idea of what size fits best with your body proportions giving you the best possible enhancement.
Estimating Breast Implant Size
Here are some helpful instructions for estimating the size of breast implants after surgery. Click here to view.
SALINE OR SILICONE
Breast implants are silicone shells filled with either saline (salt water) or silicone gel. Both implant types are very safe, and each offers its advantages. Your doctor will help you decide which kind is right for you.
An advantage of saline breast implants is that, if ruptured, the saline (salt solution) is absorbed by the body. However, saline breast implants may appear less natural. This issue is more prominent in small-breasted or reconstructive patients, especially for very thin women who have little breast tissue to cover the implant.
Silicone gel-filled breast implants may provide a more natural feel and are the implant choice of most of our patients. Many years after being approved, the U.S. Food and Drug Administration (FDA) has stated that silicone breast implants are safe and effective for breast augmentation surgery. Dr. Fedele is proud to offer patients the option of silicone gel-filled breast implants. He feels they are much softer and feel more natural than saline-filled breast implants.
BREAST IMPLANT SHAPE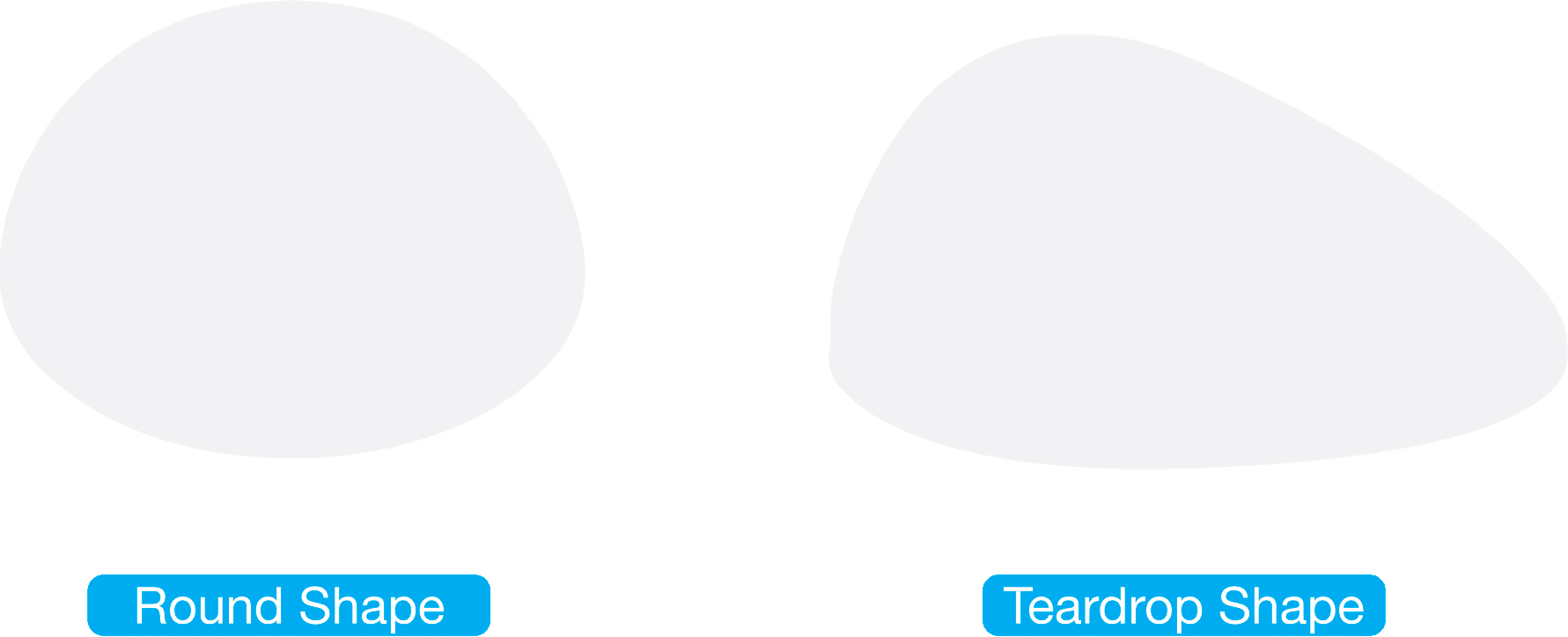 When choosing breast implants, shape is an important consideration. The two types of breast implant shapes are round and teardrop. Breasts differ significantly from woman to woman, so each patient must consider their ideal breast implant shape with care.
Round Breast Implants
Of the two breast implant shapes, the round breast implant is the most common type used for breast augmentation. Many women choose round implants because they tend to provide the greatest amount of lift, fullness, and cleavage. Some women, however, feel that the results produced with round implants appear artificial, so they seek out more natural-looking alternatives. A round breast implant can have a smooth or textured surface. Due to a round implant's symmetrical shape, it does not pose the risk of implant rotation. Round implants come in three different variations of shape: low, medium, and high profile. A higher profile can enhance the forward projection of the breasts, which would otherwise require larger breast implants with wider bases.
Teardrop Breast Implants
As the name indicates, a teardrop breast implant, also known as a contoured breast implant, is shaped like a teardrop. Breasts attain a more gently sloping contour with teardrop breast implants. Although the upper portion of breasts that have teardrop implants are not as full as breasts that have round implants, teardrop-shaped implants often provide greater projection by volume. For women who want more naturally shaped teardrop breasts, these implants may be the ideal choice.A teardrop implant requires a textured surface to prevent rotation because breasts can become distorted if the implant rotates. Round implants do not have this issue.
OVER MUSCLE OR UNDER MUSCLE
During surgery, your surgeon will place the implant behind each breast, either under the chest wall muscle (Pectoralis Major Muscle) or over the muscle. Dr. Fedele feels that placing the implant under the muscle (or sub-Pectoral) has the advantages of hiding the implant better in smaller breasted women. Also, it can make the incidence of capsular contraction less likely (the "capsule" is a scar that forms around the implant). The incisions are small and can be placed under the breast in the fold, around the nipple, or through the armpit (Endoscopic Technique).
What Is The Breast Augmentation Surgery Like?
The procedure is typically performed under general anesthesia as an outpatient surgery at an ambulatory surgery center. The procedure takes about one hour, and you will spend about one to two hours in the recovery room. The first three to four days is the most uncomfortable, but Dr. Fedele will prescribe pain medication and a muscle relaxant to control the discomfort. Most women are back to work in about five to seven days and back to exercising and full activities in three to four weeks.
Incision Techniques
Incisions are made in an inconspicuous place on the breast to minimize scar visibility. These incisions may be located:
In the armpit (transaxillary)
The surgeon makes the incision in the natural folds of the armpit tissue. A channel is then created up to the breast. Your doctor may use an endoscope, or a small tube with a surgical light and camera embedded in the end, with this procedure to provide visibility through the channel. The biggest advantage of breast augmentation with a transaxillary incision is that the scar is not on the breast.
Under the breast (inframammary)
The incision is performed with an incision made under the breast and close to the inframammary fold. The incision is made here to secure proper placement of the implant, but also to reduce scar visibility. An advantage of breast augmentation with an inframammary incision is that the surgeon works close to the breast, allowing for optimal visibility while working.
Around the areola (periareolar)
The areola is the dark area around the nipple. A periareolar incision places the incision in the transition area between the dark areola and surrounding breast skin. The color shift hides the scar. As with the inframammary incision, this incision allows a surgeon to place the implant in the precise pocket formation and provides for absolute controlled bleeding.
After the incision, your surgeon will create a pocket for the breast implant. The implant is slid through the incision and then centered behind the nipple.
Saline implants may also be placed endoscopically through an incision in the navel. This minimally invasive breast enhancement technique is known as a transumbilical breast augmentation or TUBA approach.
Placement Options
Breast Implant placement beneath the muscle of the chest offers a few advantages over placement beneath the breast tissue only. These include reduced risk of capsular contracture (post-operative tightening around the implant) and less interference with mammogram examinations. Possible disadvantages include the need for drainage tubes and elevated pain in the first few days following surgery. Your doctor will help you decide which option may be best for you.
In the TUBA procedure, implants cannot be placed beneath the chest wall.
After the implants have been inserted and positioned beneath the nipples, the incisions are stitched closed, then taped and bandaged. In a few days, these bandages may be replaced with a surgical bra.
What Are The Risks?
Complications following breast augmentation surgery are uncommon and usually minimal. Although rare, some complications that may occur include capsular contracture, swelling and pain, infection around the implant, change in nipple sensation, decreased milk production while nursing, and breakage or leakage of the implant (implant rupture) as a result of injury. Regular monitoring of breast implants after breast enlargement is recommended to ensure continuing breast and implant health.
All surgical procedures carry risks and Dr. Fedele will spend time with you at your consultation to explain the procedure in detail and any risks involved. This website is designed to give you some basic information about Breast Augmentation and is not a substitute for a comprehensive consultation and exam with Dr. Fedele. Call the Center for Plastic & Cosmetic Surgery today for a personal consultation and learn more about the "Art of Plastic Surgery" with Dr. Fedele.
What To Expect For Breast Augmentation Recovery?
Our doctor performs all of his operations with great care and precision, ensuring that patients can enjoy a quick and healthy recovery.
Because breast tissue is stretched and separated during breast augmentation surgery, and because implants are inserted through incisions, the breasts will be bruised, sore, and swollen after surgery. Most patients also feel tired after breast augmentation surgery, but this usually passes in a day or two. You can expect to wear a surgical bra for several days. It may also be recommended that you wear an athletic or support bra until the swelling has subsided.
Heavy lifting or straining should be avoided after breast augmentation surgery because this can cause the breasts to swell and increase pressure. You can typically return to work within two weeks and to full activity shortly after. Stitches are removed in a week to 10 days after breast augmentation. Any post-operative pain, swelling, and sensitivity will diminish over the first few weeks. Sensation in your nipples may be reduced temporarily but should return to normal as your breasts heal.
After healing, some permanent scarring may remain, although scars from breast augmentation incisions will typically begin to fade in a few months and will continue to fade for months or years. Scars are usually small and inconspicuous. We strive to make them as unnoticeable as possible.