Face Lift
Conveniently located to serve the areas of Beachwood and Cleveland, Ohio
Dr. Fedele can turn back the clock about 10 to 15 years with a facelift. This ever-popular cosmetic surgery removes loose skin on your face and neck, tightens underlying muscles and tissue, and removes excess fat.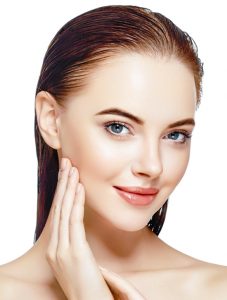 If you combine longer lifespans with the fact that the skin on our faces is among the thinnest on the entire human body, you have a perfect recipe for sagging skin, sunken cheeks, the formation of lines and creases, and overall aging on the face.
Clinically known as rhytidectomy, the facelift is one of the earliest performed cosmetic surgeries, first performed back in the early 1900s. The procedure originally dealt with sagging skin, but today's innovations focus more on the underlying muscles and tissues than simply the skin. This achieves a natural, younger appearance.
PATIENT TESTIMONIAL
Thank you so much it's hard to express in words what you have done for me. But you have given me a healthier and less self-conscious outlook. You are an excellent surgeon with a great sense of aesthetics (An artist!) Thanks for everything.
-Robin
Reasons To Consider A Facelift
Aging of the face can be caused by a variety of factors including sun exposure, smoking, age, and genetics. The signs of facial aging include loose skin, prominent folds around the mouth, "jowling" along the jaw line, and sagging skin of the neck.
Dr. Fedele performs a Facelift procedure to soften the lines on the face giving you more pleasing contours. The result is a smoother, firmer and younger appearance to your face and neck.
Before and After Photos
Complementary Treatments
Facial rejuvenation can include a facelift procedure in combination with other enhancement procedures to give a harmonious balance to the face.
To compliment the results of a face lifting procedure, Dr. Fedele may also perform other procedures, including:
Eyelid lifts (Blepharoplasty)
Brow lifts (Endoscopic Technique)
Laser skin resurfacing
What Is The Procedure For A Facelift?
The goal of the procedure is to rejuvenate the face, jowls, and neck.
Although the facelift is one of the original cosmetic surgeries, with the first recorded facelift being performed in Germany in 1901, methods have definitely expanded over the past 15 years.
Today, Dr. Fedele uses different methods depending on the patient's unique situation. These are some general facelift techniques, but your procedure may be a hybrid of different options such as:
Traditional facelift
A full facelift involves the largest degree of lifting and repositioning of the muscles and other involved tissues. Modern methods involve much more repositioning of underlying muscle and support tissue, and less pulling/stretching of the skin. Incisions begin at the temples on each side of the face, run down in front of the ears, wrap around the earlobes, and terminate in the hairline behind the ears.
Rather than simply removing fat, Dr. Fedele usually repositions it to keep the patient from acquiring a drawn, hollow look. Excess skin is trimmed before being re-draped. If there is excessive neck sagging, a second incision may be made under the chin to better access, lift, tighten, and trim the involved skin and muscle on the upper neck.
Mid-face lift
Many patients have sagging that is really centered around their cheeks. A mid-face lift is excellent in these cases because this lift focuses on the middle of the face, particularly the cheeks.
Mid-face lifts can reduce puffiness under the eyes, correct nasolabial folds, and improve the definition of the cheeks. In mid-face lifts, Dr. Fedele usually makes small incisions in the lower eyelids or the mouth.
Limited-incision facelift
This method can be a good option when a patient doesn't have as much sagging. Or it may be a follow-up to a full facelift performed a decade prior. This facelift provides limited rejuvenation around the eyes and mouth, including nasolabial folds and other deep creases. Shorter incisions are made at the temples, around the ears, and possibly in the lower eyelids and/or under the upper lip.
Neck lift
Neck lifts are not actually facelifts, but are often combined with a facelift to address sagging and banding in the neck. A neck lift focuses on the jowls and fat under the chin. Incisions are made around the earlobe and behind the ear into the lower scalp. If needed, an additional incision is made under the chin.
Before and After Photos
How Long Will My Results From A Facelift Last?
The changes made by Dr. Fedele are permanent. He will remove excess drooping skin, he'll anchor muscles to bring the tissues back up and eliminate sagging, and he'll remove or reposition fat.
These changes will last forever.
Of course, that doesn't mean the aging process won't continue. But any future signs of aging will begin from a much younger starting point. To keep up with aging, many of Dr. Fedele's patients come back in for a minor touch-up procedure in five to 10 years just to update their results.
How Long Does Recovery Take After A Facelift?
All in all, a facelift will show your full results after about six months, but full healing can take one year.
Facelifts are quite aggressive in the amount of tissue lifted and repositioned. As you would imagine, this creates some extensive tissue trauma, which shows itself in swelling and bruising. After your surgery, Dr. Fedele will have your face wrapped in bandages and you will likely have some drainage tubes in place.
Patience is key in your recovery.
The first few days can be difficult, but from there you'll rapidly improve. You'll have to sleep with your head elevated for at least the first week, and sleeping on your face must be absolutely avoided. At first, your skin will feel tight. When the pain subsides, you will have numbness in areas, especially on your incisions. Most patients can return to work after around three weeks.
As for exercise and lifting, you'll need to be careful. You don't want to raise blood pressure to the face for a few weeks. Dr. Fedele will give you general timelines for returning to exercise and such, but you'll also need to monitor this yourself.
Facelifts can have residual swelling that returns, usually in the evening, for weeks, even months. This is completely normal; it takes time for the skin to adjust to the changes. Also, your incisions will heal and change from feeling numb to itching. This also is normal, as the nerves adapt to their locations on the re-draped skin.
How Long Will I Have Swelling After A Facelift?
As discussed above, swelling endures with these procedures. There is simply a large amount of tissue that is lifted and repositioned, and this creates swelling. Your initial recovery and swelling will last a few weeks, but swelling can return at night for months.
How Long After My Facelift Before I Can Eat Solid Foods?
The only worry about eating solid foods is lingering reaction to your general anesthesia. For the first few hours after surgery, you'll only drink clear liquids. But from there you can progress immediately to solid foods.
Face Lift Risks
All surgical procedures carry risks and Dr. Fedele will spend time with you at your consultation to explain the procedure in detail and any risks involved. This website is designed to give you some basic information about a Facelift and is not a substitute for a comprehensive consultation and exam with Dr. Fedele.
Facelift Consultation
Call the Center for Plastic & Cosmetic Surgery today for a personal consultation and learn more about the "Art of Plastic Surgery" with Dr. Fedele.