Tummy Tuck (Abdominoplasty)
Conveniently located to serve the areas of Beachwood and Cleveland, Ohio
The tummy tuck, or abdominoplasty, will give you a flatter, tighter, smoother stomach.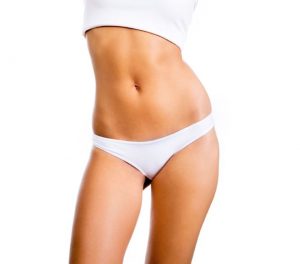 Frustrated with trying to get a flat stomach?
You're not alone.
No matter how much you diet and exercise, it rarely seems to do anything to the abdomen area. The combination of loose, sagging skin and weaker muscles gives most of us a little pooch, no matter how much we try to make it otherwise.
A tummy tuck from Cleveland Plastic Surgeon Dr. Gregory M. Fedele, M.D., F.A.C.S. can give you back the flatter, contoured stomach of your younger years. An abdominoplasty can be the right solution for you.
What Is A Tummy Tuck?
A tummy tuck, formally known as abdominoplasty, removes excess fat and skin in the abdomen area and restores weakened or separated muscles, giving you a flatter, smoother, more contoured abdomen.
What Our Patients Are Saying
"Dr. Fedele is an amazing physician and a true artist. He demonstrates the utmost in professionalism through his meticulous surgical skills and compassionate but honest approach to his patients. His staff is always pleasant and helpful. The office setting is comfortable and easily accessible–truly top notch in all aspects of the patient experience."
Am I A Good Candidate For Abdominoplasty?
Since a tummy tuck is more about skin and muscle than fat, the best candidates for an abdominoplasty have loose, inelastic skin that hasn't responded to diet and exercise. Some pockets of fat may be present. While everyone has their reasons for an abdominoplasty, most people fall into one of two categories:
An abdominoplasty is an easy way to tighten loose skin after pregnancy.
Women Who Have Had Children
Pregnant women typically gain weight during pregnancy in a way the can stretch and separate the abdominal muscles, weakening their ability to keep the area tight. On top of this, the skin tends to remain stretched after delivery.
If you are considering having additional children, a tummy tuck will have to wait. The effects of pregnancy will negate the results of your abdominoplasty.
People Who Have Lost a Significant Amount of Weight
Usually, skin that has been stretched for some time cannot return to its former degree of tautness.
While you may be working hard to lose weight, your skin may not stay tight. A tummy tuck can remove this excess skin, and help you get the tight stomach you want.
If you plan to lose more weight, you should delay your abdominoplasty. Additional weight loss will create more loose skin. It's also important to remember that abdominoplasty is a body-contouring procedure, not a weight loss procedure.
Before and After Photos
The Procedure
During your consultation with Dr. Fedele at his Cleveland office, you'll discuss your options between a full or mini tummy tuck. This decision will depend on where you have the loose skin and weakened muscles.
Fully Tummy Tuck
In a full tummy tuck, your surgeon will make a horizontal incision between the pubic hairline and the belly button. The goal is for the scar from the incision to be covered by a bikini bottom. The shape and length of the incision are dependent on the amount of excess skin involved.
Full tummy tucks have a second incision at the belly button to remove excess skin on the upper abdomen. The second incision is not always required and is based on each patient.
After the incision(s) are made the upper abdominal skin is pulled away from the muscle beneath. The underlying muscles are pulled together and stitched into place for a firmer abdomen and narrower waist. Fat pockets may be removed with minor liposuction at this point. The skin is then stretched downward, and over the newly tightened muscles, excess skin is trimmed, and the navel is moved to a new, natural position. The incisions are then closed.
Mini Tummy Tuck
In a mini tummy tuck, the incision made is shorter, and the skin is only lifted to the navel area, and the navel remains in place. A mini tuck is ideal for patients who don't have large amounts of loose skin, and whose muscle strength is still relatively strong.
What Are The Risks For Abdominoplasty Surgery?
Abdominoplasty is major surgery, so there are post-operative risks such as infection and poor healing. We will provide blood thinners and antibiotics to reduce any risk.
Dr. Fedele and his highly-trained staff will spend time walking you through each step of your procedure so you are prepared and feeling as comfortable as possible.
Recovery
Because abdominoplasty involves cutting the skin and muscles in the abdomen, recovery will take time. Any lifting and strenuous activity must wait for at least six weeks. Patients have residual soreness for weeks, even months in some cases. You may need to take a full month off work.
There will also be a scar, although Dr. Fedele does everything he can to make sure it can be hidden by underwear or a swimsuit.
Abdominoplasty Results
Your tummy tuck will look good for decades, as long as you maintain a healthy weight and remain active. As mentioned above, weight gain can negate your results.
Tummy Tuck Consultation with Cleveland Abdominoplasty Expert
Your personal consultation will help answer any and all questions you have about your tummy tuck options. You will be walked through each step of the procedure and go through a detailed physical examination.
Dr. Fedele designs his recommendations and surgical plan with a careful balance of your personal goals and what will provide the best results for your body. Though this website is designed to provide some basic information about the abdominoplasty, an in-person consultation will best determine which options are right for you.
Cost of Cleveland Tummy Tuck
Each tummy tuck procedure is individually tailored to fit the unique anatomy and personal goals of the patient. The final cost of a tummy tuck will reflect the various techniques and surgical requirements of the procedure.
At the end of your consultation, you will receive a detailed breakdown of the cost of your abdominoplasty.
Contact Dr. Gregory Fedele and The Art of Plastic Surgery in Cleveland to schedule your personal consultation and learn more about the tummy tuck