Breast Reduction
Conveniently located to serve the areas of Beachwood and Cleveland, Ohio
A Breast Reduction decreases the size of the breast while lifting and shaping them. Many women with excessively large breasts have complaints of back, neck, and shoulder pain with skin irritation under the breast fold.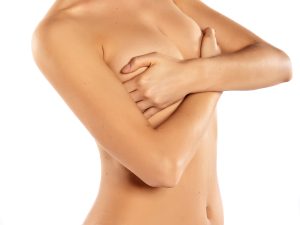 Breast reduction procedures remove excess breast tissue, skin and fat to reshape and lift your breasts. This can reduce the strain on your back and neck and may relieve the discomfort. Many insurance companies will pay for the procedure if enough breast tissue is removed. Dr. Fedele performs this procedure to greatly benefit women of all ages by relieving discomfort and giving you breasts that are in better proportion to the rest of your body.
Similar to a breast lift, the incisions are made around the areola and continue down from the areola to the breast fold and along the fold. These incisions are permanent but fade with time and are mostly hidden in the fold and at the border of the areola. Dr. Fedele uses a breast reduction surgical technique called an "inferior pedicle," which helps to preserve glandular tissue and its connection to the nipple, so that a woman can retain sensitivity and the ability to breastfeed.
Before & After Photos
The procedure is typically performed under general anesthesia as an outpatient at an ambulatory surgery center. The procedure takes about three hours and you will spend about one to two hours in the recovery room. The first three to four days you will have some discomfort, but Dr. Fedele will prescribe pain medication to control this discomfort. Most women are back to work within seven days and back to exercising and full activities in three to four weeks.
Call the Center for Plastic & Cosmetic Surgery today for a personal consultation and learn more about the "Art of Plastic Surgery" with Dr. Fedele.
All surgical procedures carry risks and Dr. Fedele will spend time with you at your consultation to explain the procedure in detail and any risks involved. This website is designed to give you some basic information about Breast Reduction and is not a substitute for a comprehensive consultation and exam with Dr. Fedele.